Among the most important architectural monuments of Calatafimi are the Renaissance style Church of San Silvestro, the Church of the Santissimo Crocifisso, considered one of the most beautiful churches in Sicily, in Neoclassical style, the Church of San Michele, the remains of the ancient castle and the Pianto Romano, a monument to the Garibaldi soldiers who died in the Battle of Calatafimi.
The Museo Etnoantropologico pays homage to the fertile land and agriculture through detailed reconstructions of rural homes and artisans' workshops that provide a fascinating overview of daily rural life.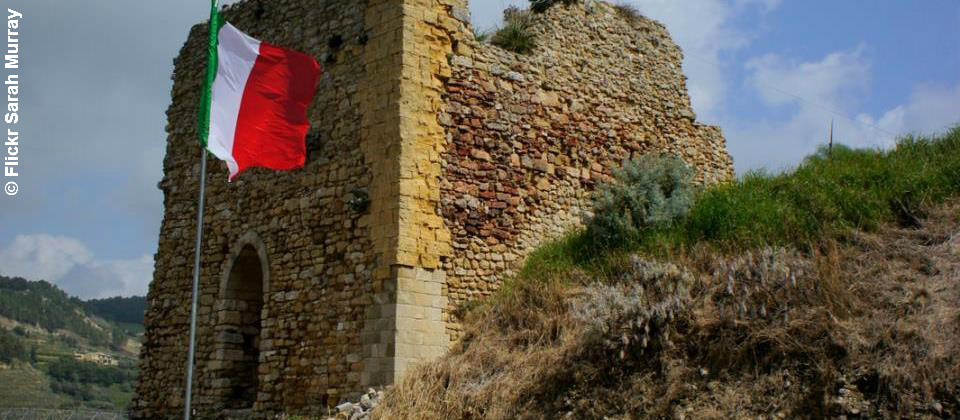 In the oldest part of the city you can visit the remains of the castle, probably constructed around the 12th century over the ruins of an older castle and the original settlement of the town. The castle, built for defensive purposes, was the Governor's residence. In the mid-19th century it was abandoned and began to crumble into its present state, a tower with arch-shaped openings, warehouses, dungeons and an outdoor courtyard. From the other hill the visitor can enjoy a beautiful view.
Segesta
Until 400 BC Segesta was a powerful city that had wiped out its rival, Selinunte. It was protected by outer walls with monumental gates and was situated on the top of a mountain with a natural defensive system of steep rocks.
Nestling in the north acropolis, with a view right down to the sea, is the theatre, founded in the third century on top of Monte Barbaro, and the more recent remains of the town (the castle, the mosque and the 15th century church) which was ruled at different times in history by the Romans, Arabs and Normans. Outside the walls there is a temple, a sanctuary in the Mango district and a Greek necropolis.
The temple is one of the most perfect, best preserved examples of Doric art. It was built in the fifth century and is a six column per row peripteros temple. It was apparently never finished; there are no grooves in the columns and no trace of a roof or cella.