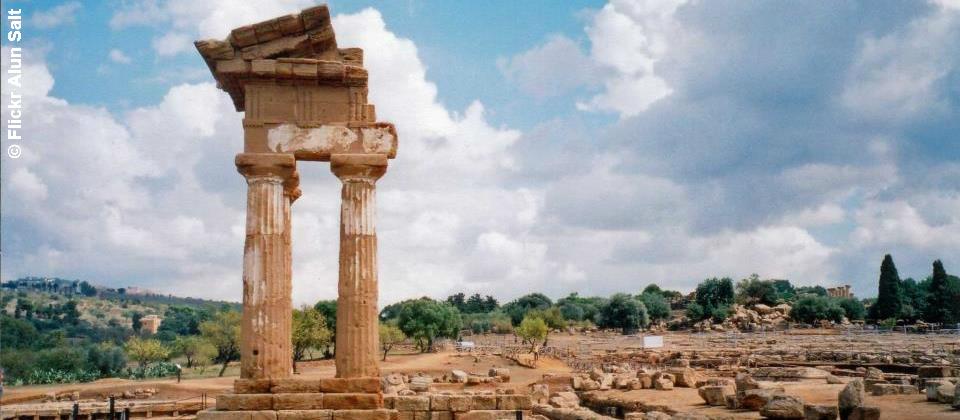 The history of Agrigento begins in 581 BC, when it was founded by settlers from Gela and Rhodes. Within a hundred years it had become "the finest city of mortals" (Pindar). The city reached its apogee in the 5th century BC under the tyrant Thero, who made it a military power. Thero defeated the Carthaginians and extended his rule to the northern coast of the island. In 406 BC the city was destroyed by the Carthaginians before being conquered and rebuilt by the Romans.
The Arabs arrived in 829 AD bringing prosperity to the city and enhancing its beauty by building numerous mosques. In 1087 it became a Norman seat and since the 14th century has belonged to several noble families, while always playing an important role in the history of the island.
The name of the city has changed several times over the centuries: the Greeks called it Agrakas, the Romans Agrigentum, the Arabs Kerkent and the Normans Girgenti. It did not acquire its current name, Agrigento until the 20th century.
The old town centre is full of remarkable monuments, although the Valley of Temples is the most famous and most highly praised part of the city. The archaeological area was declared a World Heritage Site by UNESCO in 1997. The Valley of the Temples is the true symbol of the city and a prime example of the magnificence of Magna Graecia, with its spectacular temples dedicated to Juno Lacinia, Concordia, Hercules, Olympian Jupiter and Vulcan, in addition to many other Roman-Hellenistic remains.
About four kilometres from the old city and about two from the Valley of the Temples is the birthplace of Luigi Pirandello, a well-known local playwright. The house contains memorabilia, photographs and objects describing his life and work.