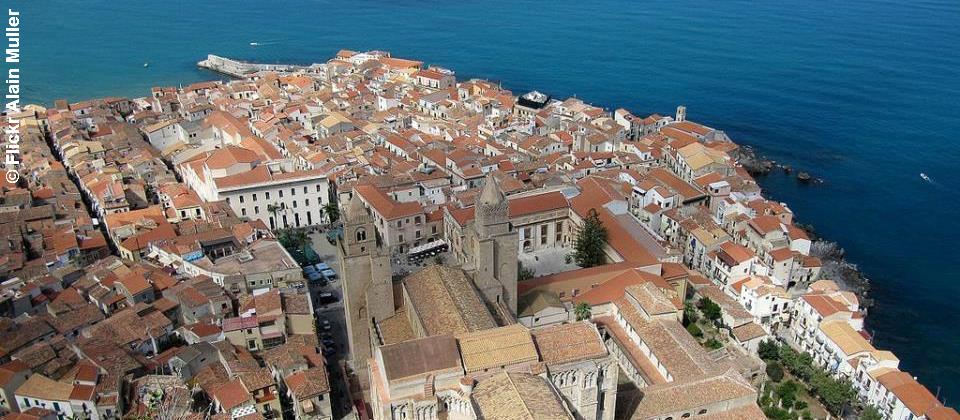 Cefalù is situated on the north coast of Sicily, approximately 70 kilometres away from Palermo. The origins of Cefalù date back to very remote times. The Greeks called it "Cephaloedium" i.e. "head", because the citadel was located on a head-shaped rock.
Subsequently, Romans, Byzantines, Arabs and Normans left their mark on the town, which still preserves a medieval historic centre with cobblestone lanes. It has a wonderful example of Norman architecture, Cefalù Cathedral, built in 1131 AD under Roger II in the town's main square. The church rises majestically between the high rock that overlooks Cefalù and the sea. The inside is famous for its Byzantine mosaic decoration also dating back to the 12th century. The mosaic in the apse of the basilica with the head of Christ Pantocrator is one of the most beautiful masterpieces, not only in the town, but on the whole island. The Cathedral Church of Cefalú has been on the UNESCO World Heritage List since 2015 together with the Church of Monreale and Arab-Norman Palermo.
Cefalù is also one of the most beautiful fishing villages on the island. In its picturesque small harbour, you can still admire traditional wooden fishing boats painted by the local fishermen. The sea here is crystal-clear and there are some beautiful beaches in the areas such as the Kalura, Mazzaforno and Settefrati.
Cefalù' is part of the "Madonie" regional natural park, which also includes various mountain villages of medieval origin that still preserve their cultural heritage of living traditions, architectural monuments and local craft products, and are very attractive for visitors. The natural beauty and authenticity of this site, its traditions and culture make Cefalù and Madonie ideal holiday destinations.